Latest News
Back to List
Tue 02 October 2012
Event report: NCCJ excursion to Nissan Oppama Plant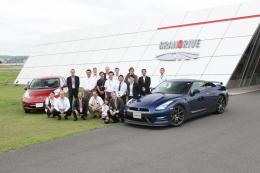 The NCCJ held an excursion to Nissan's auto plant at Oppama, outside of Yokohama, on Sept. 25. The trip was interesting and surprising, and provided some insights into how the carmaker has turned itself into one of the most successful and efficient companies in its field.
---
At the plant's main assembly line, the group was surprised to discover that the plant builds three different models on the same line – the Leaf electric vehicle, the Juke compact car and the Cube minivan. Each car that passed on the line was different – electric, gasoline, left-hand drive, right-hand drive, minivan, compact, various colors and options – and the plant can deliver them to customers within 4-5 days of receiving the order.

This speed and efficiency is a huge competitive advantage for Nissan, and is due to the flexibility afforded by the cars' modular design and the company's douki seisan synchronized production system, as well as the highly trained and motivated work force. The guide said the relatively new system allows the automaker to quickly ramp up production, as well as introduce new models without the expense of building a new line. The company is planning to deploy the system at its plants worldwide.

The group then transferred by bus to Nissan's Grandrive proving ground for some hands-on experience of several of the company's latest models – a Leaf EV, a hybrid version of the Cima luxury car, and a very zippy GT-R roadster, a car the automaker has positioned as competition for the Porsche 911. Participants were able to try out the cars on a variety of road surfaces, including expressway-type straightaways, S-turns, simulated rough surfaces and an exciting, steeply banked turn for the GT-R.

There was also a demonstration of Nissan's charging system for EVs, which boasts both a trickle charger for home use, and a new Quick Charge system for quickly topping up the battery while on the road – 0-80% charged in under 30 minutes, an innovation that the company is confident will eliminate "range anxiety," the main barrier to full adoption of EVs.