Latest News
Back to List
Fri 03 February 2012
NCCJ event report: "Briefing & Drinks" at Randstad and Shinnenkai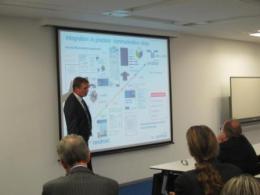 On January 19th the third edition of "Briefing & Drinks" was held, whereby NCCJ members present the sectors in which they operate and their strategies and operations. Host company this time was Randstad K.K., a member of the Randstad Holding, currently Nr. 2 worldwide in the field of flexible work solutions.
---
The event was held at Randstad K.K. offices; a brief tour of the offices preceded the introduction to Randstad K.K.'s background and operations. Chairman and CEO Marcel Wiggers, Honorary Chairman Hirofumi Masuyama, and Vice President Taco de Vries provided us with interesting information as well as personal insights with regard to global and local developments in its industry. Randstad shared some of the exciting steps and experiences it has faced by entering the Japanese market and challenges it is still facing after the M&A process of FujiStaff Holdings in 2010. Randstad has been a main player when it comes to help clients how to combine their flexible needs with quality and productivity. Starting in Holland, back in 1960 in a very small office with only a very few temporary workers, Randstad has developed into an International company with activities in more than 43 countries, providing work for half a million people every day. Randstad sees itself as a key player to provide efficiency through flexibility in the human resource field, not only by supplying suitable workforces, but also by participating and influencing discussions with all its stakeholders in order to create the right context to do so. This means being involved when laws are considered but also by continuously working on the positive image of its industry. The event was well visited and followed by most visitors by moving to a next door venue for the annual Shinnenkai.

NCCJ Shinnenkai was held at the Kioicho branch of Aux Bacchanales, a suitable setting to toast in the New Year 2012. Speeches were held by NCCJ Honorary Chairman H.E. Dutch Ambassador to Japan Philip de Heer who highlighted the economic status and potential for Europe and Chairman Hans van der Tang for a general welcome and announcing events and NCCJ news.
The speeches were followed by a lively remaining time of the event offering the members the opportunity to reconnect after the holiday season while enjoying food and drinks.
Click here to see more photo's.