Latest News
Back to List
Fri 09 September 2011
NCCJ's Unique Way to Learn Tradition and Technology in Japan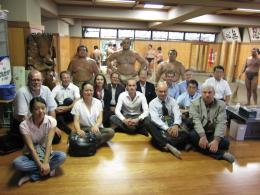 Which are faster, heavy Sumo wrestlers or Olympic sprint champions? Our world turns with electric motors from Mabuchi!
---
In the early morning of September 6, a group of 20 NCCJ early birds and their friends gathered at Matsuhidai station in Chiba prefecture. We enjoyed a rare opportunity to observe Sumo training at a traditional Sumo Stable. We were welcomed by its master, Sadogatake, a massive and dignified former wrestler of 181cm tall and 170kg weight, before sitting on the floor on traditional Japanese cushions to observe over 20 wrestlers, including the first European "ozeki" top ranking wrestler, Koto-oushuu, from Bulgaria.

Sumo training starts at 4 a.m. and continues for at least for five hours every day. We were spectators of hard stretching, muscle building, countless vigorous bouts and strenuous pushing, but also saw the subtle techniques of pulling and throwing heavy opponents under the supervision of the stable master, or "oyakata".

When two wrestlers dash to fight each other, the collective force is equivalent to about 2 tonnes. Their initial response speed has been calculated to be faster than Carl Lewis and other Olympic record holders in the 100-metre sprint. To be a successful Sumo wrestler, you must be basically bigger, fatter and faster to push the opponent out of the ring or drop him to the ground. That is why Sumo wrestlers eat a lot of "chanko" nabe or pot-au-feu and steamed rice after their strenuous morning training sessions.
During the 2009 celebrations of 400 years of official trade relations between the Netherlands and Japan, 22 Japanese sumo wrestlers from the Sadogatake stable made a rare foreign visit to the Netherlands for the first "Sumo in Holland 2009" performance in our bilateral relationships. It attracted 7,000 Dutch and Japanese spectators at the special "dohyou", or ring built in the Heineken Music Hall in Amsterdam, as well as gaining coverage in Dutch and Belgian TV and newspapers.
After two hours hard training for ourselves sitting on the floor, we were at last offered a traditional chanko brunch, served by the lower ranked, young wrestlers. Sadogatake's chanko recipes are very famous, and were exported to the Hotel Okura in Amsterdam to treat their wrestlers in 2009. We all agreed that it was truly delicious.
After learning about this traditional and national sport of Sumo of Japan by special arrangement of the Dujat (read below about Dujat) representative in Japan, our NCCJ delegation visited Mabuchi Motor, the world's no. 1 brand in the DC motors market, where we were welcomed with a company introduction and video, followed with a lively Q&A session and company tour through the company's museum. This micro-motor company undertakes R&D in Japan and manufactures its products in other Asian countries for export to Japanese, European, and American motor and electronics manufacturers, including Philips in the Netherlands. We learned that many unique technology oriented companies are not necessarily originated in Tokyo, but in Kyoto, Nagoya and other prefectures like Chiba where Mabuchi is headquartered. Also, we were surprised to discover that the cars we drive are equipped with many of Mabuchi's electric motors. A luxury car uses as many as 70-80 micro-motors for many components like its doors, seats, steering, GPS navigators and many other gadgets. Japan has the same saying as the Dutch "Klein maar fijn" that perfectly applies to micro-motors and Mabuchi.
In this unique excursion, NCCJ participants experienced the contrast of tradition versus new technology, and big versus small. We offered Sadogatake a Gouda cheese as a token of our appreciation, which they enjoyed at their barbecue party a few days later in preparation for the next tournament on Sunday.
Dujat is the abbreviation of the Dutch-Japan Trade Federation, consisting of 100-plus Dutch companies and Japanese companies established in the Netherlands to promote business between our two countries. It is a NPO, headquartered in Amsterdam. Takeo Nishitani is its representative in Japan. Its main activities are conducted in the Netherlands, in close relationships with the Japanese Chamber of Commerce in the Netherlands.
For further, visit Dujat's website web site: www.dujat.nl