Latest News
Back to List
Thu 15 February 2018

10:00

-

15:30



Event report- ANA Hosts the NCCJ at Haneda Airport
When most of us travel by plane, we rarely consider the tremendous maintenance and preparation that keeps aircraft safely in the air. But this week, members of the Netherlands Chamber of Commerce in Japan got a look behind-the-scenes at modern aviation maintenance and technology at Haneda airport.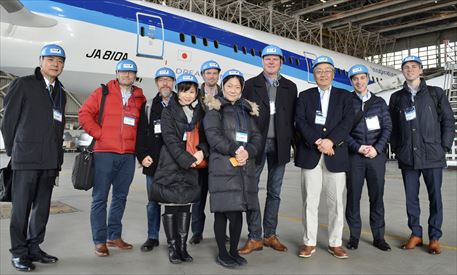 "I thought it was very impressive and a unique opportunity," said NCCJ member Akira Havermans of the tour, hosted by All Nippon Airways. "It was a great to see the airplanes from another angle. Literally. Usually, you just walk in, but you don't realize how many people are working on preparations — working all night long to prepare the crafts."
    "What we saw today, the hanger and the introduction was great," he added. "Unbelievable, actually."
    The tour began with a multi-media presentation from ANA, Japan's largest airline. The company's maintenance group employs about 4,500 people, and works 365 days a year to ensure aircraft safety. It's fleet of over 220 planes goes through rigorous physical, mechanical and electronic checks before every flight.
     "It takes several hundred staff to get each aircraft off the ground," said an ANA spokesperson through a translator. "Safety is always our number one priority."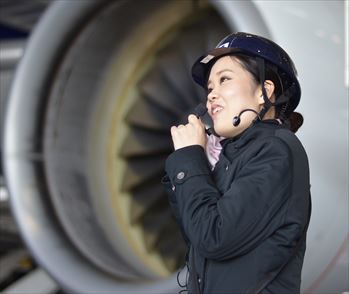 The first step in the safety process is a visual inspection each time an aircraft comes in. Engineers, electricians and mechanics give each plane a thorough going-over before it is allowed to fly again.
     After 500-1000 flight hours, aircraft are held overnight for a more detailed examination. Following 4,000-6,000 hours in the air, planes are pulled in for 10 day inspections, where panels and parts are removed, inspected and replaced if necessary. Heavy maintenance visits are carried out every six years, where inspectors look for issues arising from long-term operations of the aircraft.
     It is a painstaking process yet with an incredibly important goal — ensuring ANA planes are as safe for passengers as possible.
    "The amount of staff and people involved in maintaining an aircraft and keeping the process going is quite impressive," said NCCJ chairman Jorg van Leeuwen. "And it's very interesting to have an opportunity to actually see how it's being (done)."
     For the second part of the Haneda visit, NCCJ members got a look at ANA's ground operations inside the airport, in particular the high-tech methods that allow customers to check-in and deliver their luggage. Most of the airline's customer service operations at Haneda are now automated, with technology allowing passengers to book tickets, print boarding passes and scan passports themselves. They can also register and check their luggage, thanks to unique self-service bag drop machines provided by the Dutch company Scarabee Aviation Group.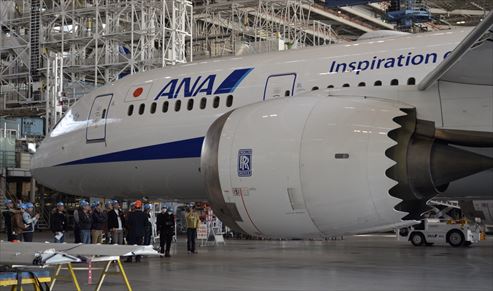 The firm first produced Bag Drops for Amsterdam's Schiphol Airport seven years ago, but how has units in use at airports across Japan including Chitose, Narita, Fukuoka (in summer 2018) and 39 at Haneda.
"The nice thing about this Bag Drop, is that a Dutch product happens to meet Japan standards," said the firm's Japan CEO Naoki Shirakawa. "Japanese expectations are very high. But after going through two-and-a-half years, our product has been able to meet the real demanding Japanese customers and companies — quality-wise and functionality-wise."
Shirakawa, an NCCJ board member, said the Scarabee Aviation Group also has Bag Drop units at airports like Taipei, Taiwan and will soon be expanding.
"Each time we install in a new site, it's the same version, version eight machine," added Byron Kidd, Scarabee Japan's technical manager. "But we learn from things that have happened at the previous installations — what we can tweak and make better. It's always making incremental changes to improve the product."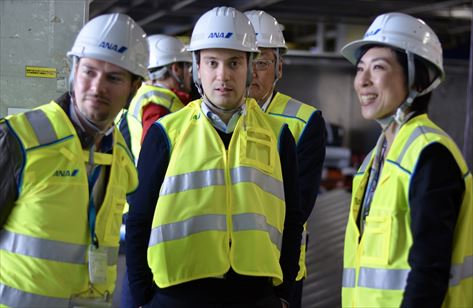 The goal of Scarabee's products align with ANA's overall objective of improving waiting times at the airport and enhancing customer service. NCCJ members learned how the recent automated improvements at Haneda have streamlined the customer service process.
"The new system has cut customer wait times in half," said Toshiya Shimada, ANA's director of passenger services. "The goal is to enhance our customer's flying experience."