Latest News
Back to List
Thu 26 January 2017
Event report: Shinnenkai 2017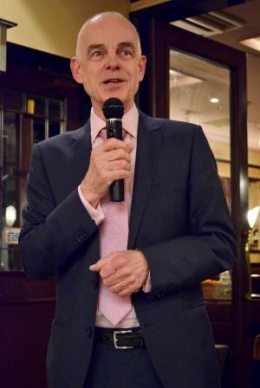 It was an evening of fun, fine food and friendship at the Netherland Chamber of Commerce in Japan's 2017 Shinnenkai on 24 January. Held in collaboration with the Holland Alumni Network Japan, the event once again drew a large turnout to the Brasserie Va-tout in Roppongi.
His Excellency Mr. Aart Jacobi, the Netherlands Ambassador to Japan and Honorary Chairman of the NCCJ, offered his best wishes for a happy and successful year. Yoko Wakatsuki of the Holland Alumni Network delivered the year's first "kampai."
Chamber leaders say 2016 was a successful year for the NCCJ. In December, members were treated to a trade dinner sponsored by the Dutch government. On the same night, the chamber's biannual Deshima Awards honored two leading firms in the healthcare field.
Many other firms are also making a mark, according to NCCJ Vice Chair Maarten Molenaar. "In general, agriculture is a strength, IT business as well and cyber-security," he says. "Sciences in general — new inventions are booming. Lots of start-ups are also coming from Holland. One of our new members is a company doing airport security."
After a few lean, post-Lehman shock years, chamber membership is also bouncing back. Membership committee chairman Richard van Rooij says levels are now back to where they were in 2007-08, and many members are new companies.     
"Over the past five or six years, we have had a large turnover," says van Rooij. "So, we grew from about 40 members to 53. But in fact, in that same period, we replaced a large number of members — I think (we have) 30 new members out of 53."

This year's NCCJ Shinnenkai brought in some special guests from out-of-town, including Consul-General Roderick Wols of the Netherlands Consulate in Osaka-Kobe. Wols says the Dutch relationship with Japan is an old one, dating back to the early 1600s, and the two countries have proven that freedom of trade — and fair trade — opens doors to knowledge, peace and prosperity. "Over 40,000 people have direct jobs from Japanese companies (in the Netherlands), and over 450 Japanese companies have the Netherlands as their base," Wols points out. "With Brexit coming in, many Japanese companies are looking to the continent and Holland is a very interesting alternative."     
With the winds of protectionism blowing in the U.K. and United States, Wols adds that now is a good time for countries like the Netherlands and Japan to cooperate more and take advantage of global opportunities.
"I think you can have small gains when you look inwards, that's true," he says. "But in the long run, if you only look to your own market, we will all be losers. If we have fair trade, we all benefit. We saw that in the European Union, with the countries working together."
The Holland Alumni Network was a co-sponsor of this years Shinnenkai. HANJ co-founder Yoko Wakatsuki says her organization provides Japanese students with a chance to live and study in the Netherlands, something that offers life experiences different from a traditional Anglo-Saxon environment.     
"Holland gives them a different kind of window to see the world and to see outside Japan," she says. "I think that's very important."
Next year marks the 40th anniversary of the Netherlands Chamber of Commerce in Japan, according to office manager Etsuko Yamanaka. Various events will be planned to mark the occasion.