Latest News
Back to List
Thu 08 December 2016
KLM celebrates 65 years anniversary in Japan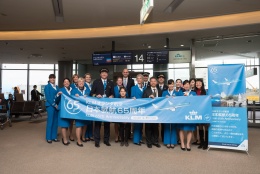 On December 7, KLM in Japan celebrated its 65th anniversary in Japan at Narita Airport, Tokyo. In 1951 the journey was a real adventure travelling with a Constellation. It took 3 days to travel with stops in Manilla, Bangkok, Karachi, Rome and Zurich. Now it is a very convenient flight with a daily Boeing 777.

At the airport the anniversary was celebrated with the passengers of the departing flight. Everybody could write their best wishes on a message board. A special KLM blue colors eco bag was offered to all passengers by Air France KLM Sales Director Thijs Komen and ground staff.
Also the press was present and the event will be broadcasted on Japanese national television. The coming period a special online campaign to celebrate the 65th anniversary will continue with 65 passengers who can win a Business Class upgrade.
On the occasion of KLM's 65 years anniversary in Japan, there is a chance to win a Business Class upgrade, bonus miles and more. More details here (Japanese).