Latest News
Back to List
Wed 28 September 2016
Event Report: NCCJ & SCCIJ Joint Luncheon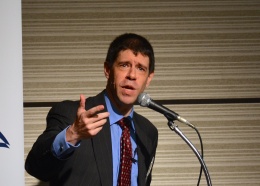 The promise of unknown success stories in Japan's corporate world seemed to have been very strong for the members, friends and guests of the Swiss Chamber of Commerce and Industry in Japan (SCCIJ) and the Netherlands Chamber of Commerce in Japan (NCCJ).
Almost 70 people came to listen to Mr. Jay Nelson's talk about Japan's top 21,000 corporations with many "high net worth individuals" as the wealthy are called in asset management circles. Mr. Nelson is the operating partner of "Success Stories: Japan", an exclusively Japan-focused consulting and information firm founded in 1997 and based in New York.
Getting close to Japan's CEOs
"Success Stories: Japan" is a consulting firm that works with a wide variety of global as well as European companies, helping them identify the right Japanese companies to sell to or to partner with, and then assisting them in building and maintaining enduring relationships with those target companies, either at the executive level, or at the management levels, or just the technical/product development levels.
The firm works with foreign capital companies both large and small, whether they wish to form marketing alliances or technology collaborations with Japanese companies, or wish to sell enterprise products to major Japanese companies, get tied into Japanese universities or government research organizations, do deals or M&A, or even just make contact with Japanese CEOs for personal interests like hobbies, CSR, investing or having them join CEO networks in the world to become more global.
Jay Nelson and his team try to meet Japanese CEOs regularly in non-threatening ways to expand the firm's network. He has met mayors of small Japanese cities, played at Japan's most exclusive golf course clubs, knows the Japanese resorts CEOs go to that most foreigners have never heard of, and in general tries to learn the unique personal interests (whether golf, mahjoong, sumo, shogi, shochu, etc.) of all the CEOs he meets.
Positive messages
His first encouraging message at the luncheon was "to care about Japan" because the country would feature about 1,000 companies with a revenue of more than 1 billion dollars as well as 2.1 dollar millionaires which is the second highest number of millionaires in any country behind the United States. He called Japan the "largest emerging economy" because of its cutting-edge technology, big government initiatives on the way and enormous privatizations to come.
He recommended not to look at big corporations like Sharp, Toshiba or Mitsubishi Motors which had many problems, but rather at the top 2 percent of firms which are world leaders in their field without having well-known names and being mostly independently owned. As examples, he mentioned Juki, the largest manufacturer of sewing machines or GLM, the Kyoto based manufacturer of Japan's Tesla-like electric vehicle named "Tommykaira".
As a second example for Japan's success and potential, the luncheon speaker mentioned the island nation's under-commercialized patents and research & development. E.g., Japan would be the world's only source of mice injected with human hepatocytes that allow pharma and biotech firms and universities faster testing of treatments for liver diseases and hepatitis. Also, Japan is home to the only company that can create the thick inner containment vessel of a nuclear reactor in a single metal piece.
World-leading technologies
As world-leading university technology projects, Mr. Nelson mentioned catalytic chemistry (Takashi Aida) at the Tokyo Institute of Technology, improving mining geology (Koichiro Watanabe) at Kyushu University, understanding how we understand data (Toshikazu Miyanaga) at Hokkaido University Graduate School of Information Science, how to bury nuclear waste even more safely (Kenji Aoki) at Kyoto University's Environmental Geosphere Engineering Division and improving bio-artificial organs (Hiroo Iwata) at Department of Reparative Materials of the Institute for Frontier Medical Sciences at Kyoto University.
Taga Yasunori of Chubu University (Kasugai, Aichi-ken) and his team invented a method of joining different plastic materials without recourse to adhesives, he added. It joints two plastic materials by radiating the surface of the plastic materials with a plasma beam on the atomic level. The use of this technology could reduce manufacturing time by 90 percent while reducing the cost by 30 to 40 percent compared to current technology. One potential application is the jointing of a film that reflects infrared light on a vehicle windshield. That would reduce the temperature in vehicle interiors under a scorching sun, which would both lower air conditioning costs and also better protect onboard electronic components.
Coming transformation of Japan
Thirdly, Nelson pointed out other big changes in the making which indicate a transformation of Japan's economy, among them the "My Number" system, the preparedness initiative, the Tokyo 2020 Olympics, the privatization of airport services, the regional revitalization spending, the advent of integrated resorts with casinos and large privatizations. Even Mitsubishi Group companies would now be changing, Mr. Nelson said. For example, Mitsubishi Estate, Japan's most important real estate company which never had to market its premium office spaces aggressively in the past, would now be pushing hard everywhere - whether in Hong Kong or Silicon Valley or with commercial brokerages, Nelson explained.
Foreigners also "get it"
"Some foreign companies would already get it", he said, exemplified by General Electric's call to Japanese tech firms, Saint Gobain's partnership with NIMS, Pfizer's 3 percent stake in Sosei Pharmaceutical for research in key drug areas, and Bayer Yakuhin's 'Grants4Apps' partnership with Kyoto University. According to Nelson, Nestlé acted early: It acquired 95,000 Vending Machines in 1999 from UCC Ueshima (Coffee Brand), took equity joint venture for local production capability with Fujiya Company, bought a 7 percent stake in Pokka Corp in 1999 and started an equity joint venture with Yayoi in the frozen food business.

Optimistic outlook
Nelson finished his talk with some surprising optimistic predictions. Japanese companies would just be beginning a new evolution to globalize as never before. "In twenty years, Japan will be fully as global as the U.S. or Switzerland", he said. The brand "Japan" would mean "quality" to everyone in the world. "So the world will increasingly seek out Japanese brands and products to fill growing needs they can't fill themselves", he also predicted. There also would be many new opportunities for Japan and for Japanese companies because of great but relatively unknown products and the facilitation of business for foreigners in Japan.
Biography of the speaker
Mr. Nelson is the operating partner of "Success Stories: Japan", an exclusively Japan- focused consulting and information firm founded in 1997. He is a cum laude graduate of Yale University who holds an MBA with Distinction in both finance and marketing from Northwestern University's Kellogg Graduate School of Management in the USA. Prior to "Success Stories: Japan", Jay was a financial and strategy executive at global companies such as First Manhattan Consulting, Marubeni, Reader's Digest, Institutional Investor, and Walt Disney. Jay is frequently quoted on Japan topics in mainstream business media such as Business Week, Reuters, Barron's, AP, and Nikkei, and appears regularly discussing Japanese companies on TV network CNBC.
Event Photos

Text and photos: Martin Fritz for SCCIJ