Latest News
Back to List
Mon 11 April 2016
Event Report: Lecture by the President of De Nederlandsche Bank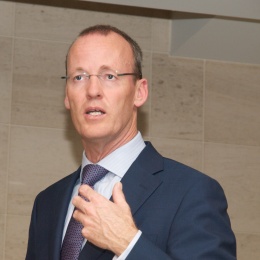 On the afternoon of March 31, an event jointly organized by the Embassy of the Netherlands and NCCJ at the Hotel Okura was attended by about 80 guests.
Professor Klaas Knot, who was in Tokyo together with a representative of the Dutch Ministry of Finance, for a meeting of the Financial Stability Board, was the speaker. Knot is President of De Nederlandsche Bank, and a member of the Governing and General Councils of the European Central Bank, as well as holding academic posts at the Universities of Groningen and Amsterdam. The title of his talk subject was "The Economic Outlook for the Euro Area".
Following a "get-together" of the attendees over coffee and cakes, the session was kicked off by Mr. Marc Gerritsen, Head of Economic Cluster of the Embassy. Professor Knot was then introduced by Professor Sahoko Kaji, Professor of Economics, Keio University, who also moderated the Q&A session following Professor Knot's presentation.
Knot's talk took in many areas, starting with an overview of the current position, and then moving on to a discussion of the role played by monetary policy in the economic health of a country, the different factors at play in the economy of the euro area, and finishing with a comparison with the Japanese experience.
First he examined current growth in the eurozone, moving to the topic of inflation, and emphasising that there was no deflation within the eurozone, and very little inflation.
He mentioned the differences between the USA and the Eurozone, in that in the USA, capital is raised in equal amounts through banks and capital markets, while in the Eurozone, eighty percent of capital is raised through banks.
Knot emphasised that the "virtuous circle" is broken when there is a large amount of debt in the economy.
Real economic growth, he pointed out, must come from an increase in productivity, rather than from the labour force, the resources of which are almost exhausted.
As far as Japan is concerned, he drew an interesting distinction between overall GDP, and GDP per capita. In the latter case, Japan may actually be said to be growing!
In the Q&A portion of the meeting, some technical questions were asked about the cyclical nature of economic policies, the conflicts presented by the different targets demanded as results from central bankers, debt monetisation, and the relationship of GDP to debt, as well as the long-term prospects for the Eurozone.
Following the questions and a vote of thanks by NCCJ's chairman Hans van der Tang, there was a further opportunity for guests to meet and mingle, and to chat more informally with Professor Knot.