Latest News
Back to List
Wed 19 December 2012
New Member : Leon van Houwelingen - Custom Media KK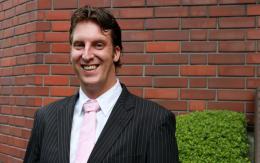 Custom Media KK joined our Chamber last summer as an Associate member with Representative Leon van Houwelingen, Senior Account Executive. Custom Media KK is an independent, creative publishing and design house and business communications agency based in Tokyo. They provide a wide range of services, from bespoke magazines, newsletters, direct mail and online content creation to advertising, branding, communications, editing, and translating services. Some of their key products include C-Level publications for BCCJ Acumen directed at C-level readers at large and ACCJ digital promotion services.
---
Leon is born and raised in Hardinxveld-Giessendam in the Netherlands. After graduation Leon travelled the world during which in Australia he made a Japanese friend with whom he travelled to Japan, a journey that inspired him to return various times due to his admiration and appreciation of Japanese culture, food, nature and much more. In 2004 he decided to study TMA at Rotterdam University which allowed him to return for 1 year to Japan guaranteed to study at Sophia University in Tokyo and an internship in Nagoya. Leon has since returned in August 2011 and married his Japanese girlfriend.

As for other interest Leon mentions that prior to coming to Japan he had plenty of hobbies, however he nevertheless makes an conscience effort to go jogging at night, bike rides along the Arakawa river and surely likes to go out and meet friends and make new ones, either for business or pleasure.

As a reason for joining NCCJ Leon looks forward to learn from fellow members from different ranks and industries and to share business ideas which will assist him in his position at Custom Media KK and his desire to become a successful businessman / entrepreneur in Japan. In addition Leon is keen to proactively work with the NCCJ and to help the Chamber go from strength to strength.