Latest News
Back to List
Tue 18 December 2012
Event report: NCCJ Bonenkai 2012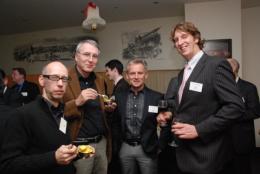 Saying goodbye to 2012 at the NCCJ Bonenkai

NCCJ members toasted farewell to 2012 at the Chamber's annual bonenkai year-end party on Dec. 12.

The bonenkai (literally "forget the year party") is an ancient Japanese tradition, observed by all kinds of groups in Japan, a time to get together with friends and colleagues and put the trials and tribulations of the past year behind us.

About 25 members attended the event, at Indian restaurant Diya at Roppongi Hills. For some of us it was a time to celebrate a year of continuing accomplishment and success; for others it was an opportunity to toast our survival in these turbulent times, forget our troubles and begin the new year with a clean slate.