Archive
Back to List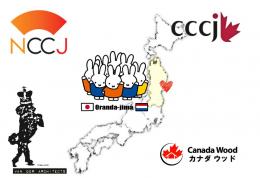 Giving Back To Japan - The Road Towards Reconstruction
When:

Wed 11 March 2015

19:00

-

21:00




Where:

Price

6,400JPY including food and drinks
In collaboration with the Canadian Chamber of Commerce in Japan (CCCJ), the Netherlands Chamber of Commerce in Japan (NCCJ) is pleased to invite you to the 3rd edition of Giving Back To Japan.
Event Overview
Four years ago, Japan's northeastern coast was devastated by a magnitude 9 earthquake, tsunami, and subsequent nuclear accidents. Lives were lost, cities destroyed, and local industries and businesses were crippled. Indeed, 3/11 is a date that has been etched into the minds of people in Japan and around the world. Despite the tragedy, and damage, Tohoku, and Japan is on the road to reconstruction. On March, 11th 2015, the Netherlands Chamber of Commerce in Japan and the Canadian Chamber of Commerce in Japan will celebrate efforts for reconstruction, and giving back to Japan with a special event showcasing a variety of projects in the affected region. The Orandajima House was initiated and built by the Orandajima Foundation as an after school facility-community centre for the children and people of Yamada-machi. This town in the Northern province of Iwate has a long relationship with the Netherlands going back to 1643 when a Dutch ship stranded there. This after school facility for the children of Yamada-machi was designed pro-bono by architect Martin van der Linden with wood donated by Canada Wood. This is a great example of countries coming together to support Tohoku, in this case with Dutch companies spearheading the project and Canada supplying the lumber and Japanese and other Europe based companies acting as donor in kind. Key financial support came from the member companies of the NCCJ and other Japan & Netherlands friendship organizations. Please join the NCCJ and the CCCJ in celebrating Japan's reconstruction on March 11th, 2015.

The NCCJ is honored to have H.E. Mr. Radinck Jan VAN VOLLENHOVEN, Ambassador of the Kingdom of the Netherlands to Japan.

The invitation is extended to members of foreign chambers of commerce in Japan and other organizations. Non-members and guests are all welcome.
Programe
Presentation by Martin van der Linden, van der Architects; Shawn Lawlor, Canada Wood Japan
Networking reception
Registration
Please register online
Booking deadline is Friday 6 March 2015.
Pre-payment by bank transfer required and no cash payments will be accepted at the door.
Upon registration, a confirmation with bank transfer information will be sent to you by email. If you do not hear from us by 6 March , kindly contact the NCCJ office at nccj@nccj.jp. Please note that your registration will be completed and considered final only when your payment has been received by the deadline (6 March 2015). No-show or cancellation on and after 6 March 2015 will be charged in full and payments are non-refundable, unless the organizer cancels the event.
For each paying guest we will donate 1,000 yen to support Tohoku reconstruction initiatives as determined by the CCCJ and NCCJ
We look forward to your registration!