NCCJ Briefing & Drinks with Philips | The Netherlands Chamber of Commerce in Japan (NCCJ)
Back to List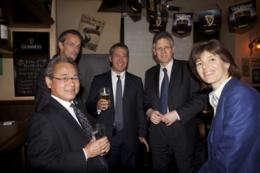 NCCJ Briefing & Drinks with Philips
When:

Wed 20 April 2011

17:30

-

20:00




Where:

Price

No charge (informal networking afterwards at own expense)
On 7 April the NCCJ held the first in a new series "NCCJ Briefing & Drinks" with Mr. Danny Risberg, Managing Director of Philips Electronics Japan, sharing the company's business portfolio, vision2015 and sector business with members. Philips is a diversified Health and well-being company, focused on improving people's lives through timely innovations.
---
As a world leader in healthcare, lifestyle and lighting, Philips integrates technologies and design into people-centric solutions, based on fundamental customer insights and the brand promise of "sense and simplicity". With the experience of business in Japan over 55 years, Philips Electronics Japan offers the best solution for people's life and aging society. The healthcare business in Japan is second largest and the lighting business is growing with LED movement. The presentation was followed by informal networking at the Irish Bar in Shinagawa. See the Photo Gallery for images of the event.
It's too late to register for this Event.